Aetherius Retreats Bali offer our guests the opportunity to meet the best version of themselves. Whether you are wanting to improve your fitness levels, reduce stress, improve your confidence or you are looking to surround yourself with like-minded people, our Bali retreat will have you bursting with energy and feeling strong as you enjoy a wellness and fitness program designed to meet your physical and spiritual needs. You will be able to rejuvenate, transform, and thrive into the most radiant version of yourself while supported by our coaches and staff.
Bali is known for its forested volcanic mountains, iconic rice paddies, beaches and coral reefs. The island is home to religious sites such as cliffside Uluwatu Temple. To the south, the beachside city of Kuta has lively bars, while Seminyak, Sanur and Nusa Dua are popular resort towns. Beyond the commonly portrayed tourist spots, Bali is a magical wonderland just waiting to be explored and experienced. Unlimited sighting allows you to be introduced to Bali's beautiful land, culture, people and traditions. While our retreats are jam packed with educational workshops and wellness and fitness sessions, we have balanced your stay to ensure you are able to meet the beauty that awaits behind every corner and a smile from the locals that is never far away. From small countryside villages in Ubud, to the breathtaking remote beaches of Uluwatu, to traditional Balinese ceremonies, we allow you to experience the 'real' Island of the Gods.
What to expect on a typical day;
7am-8am
Group Sunrise Pilates Session
8am-11:30am
Breakfast and free time to wonder the resort facilities, stroll along the beach and feel the sand between your toes, indulge in a rejuvenating massage or just relax with a book by the pool.
11:30am-12:30pm
Group Box fit Session
12:30pm-1:30pm
Lunch
1:30pm-2:30pm
Work shop/Seminar
2:30pm-5pm
Stand Up Paddle Board lesson in Sunar
5pm-6pm
Finishing a jam-packed day with a spiritual and relaxing Group Meditation session
7:30pm
Group Dinner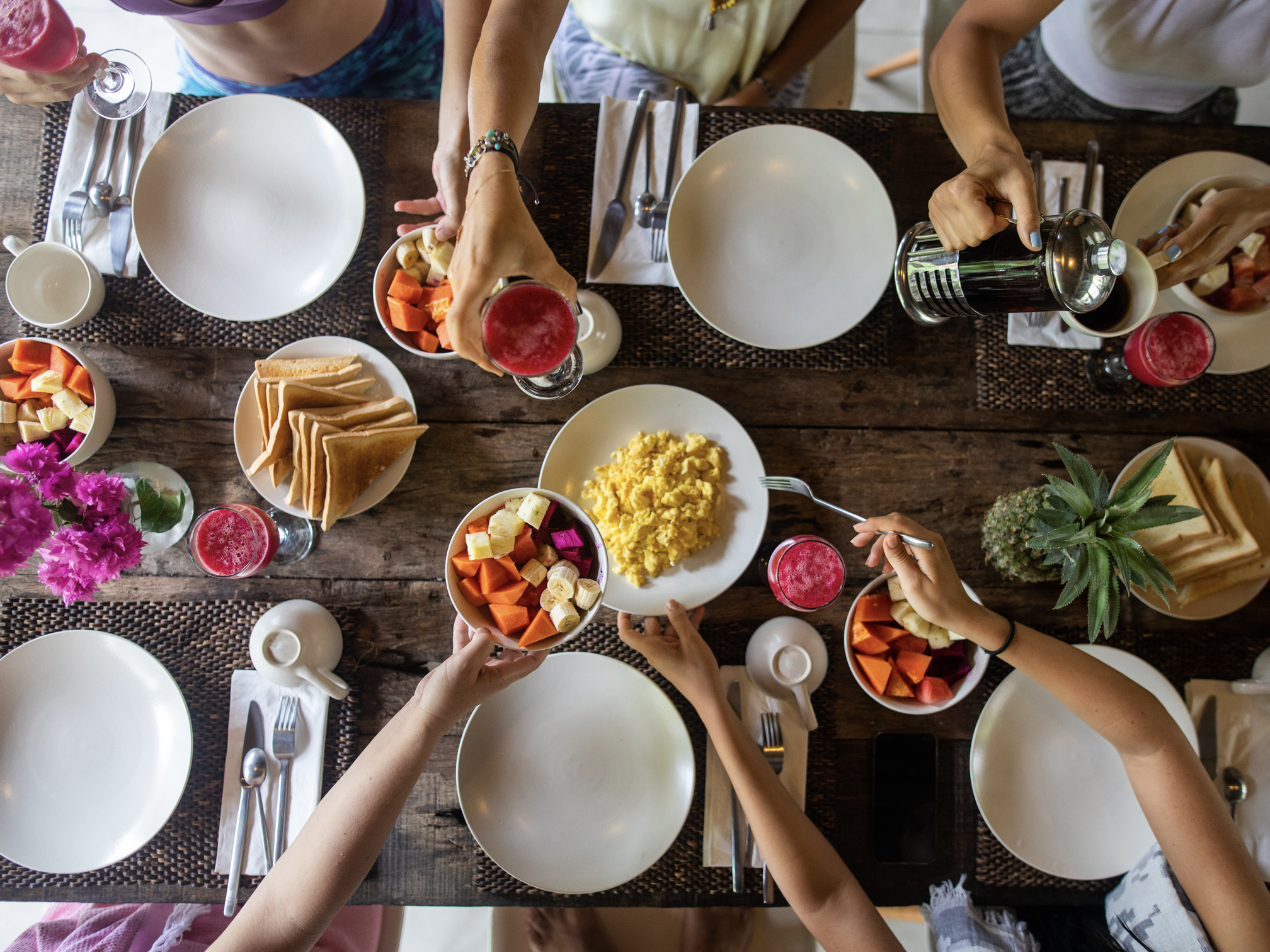 You will have an option of several activities both included and optional;
Bike Ride through Ubud
We will take you on a journey riding through the local rice fields and villages where you will be able to explore the local area, immerse yourself in community culture and activities.
Stand Up Paddle Lesson
Come along to this two-hour session located in the beautiful Sunar, a seaside town in the southeast of the island of Bali. Its long stretch of beach offers shallow waters. colorful jukung fishing boats that rest on the sand, backed by a paved cycling path. This spectacular stretch of water is where you will learn to SUP stand up paddle boarding on this entry-level course designed to get you up and paddling fast. On land, you'll learn about the best paddling technique and how to stand on the board. Then we'll start you on flat calm water, where you'll practice paddling and how to turn the board. The perfect introduction to touring SUP, your coach will also teach you a few useful tips to stop you from falling off!
Team Activity at Bali Wake Park
We set the challenge whilst your team tries not to wipe out! AQUALAND is a series of inflatable slides, runways, jumping pillows and bouncers all connected together by a floating walkway in a large, clean salt water lake. It features ramps, jumps, ladders, trampoline, slide, wiggle bridges and much more. There is a huge variety of different shapes, sizes and functions, making the activity exciting and entertaining for everyone. Opened in April 2015, Bali Wake Park is the island's first and only wake park venue. The wake park is located just 10 minutes from Ngurah Rai International Airport, in the area surrounding Benoa Harbour. Make sure you bring plenty of energy! And be prepared for lots of FUN!
Ulawatu Temple Sunset Hike
Uluwatu Temple is a Balinese Hindu sea temple located in Uluwatu South of Kuta. The temple is built at the edge of a 70-meter-high (230 ft) cliff or rock projecting into the sea. This sunset hike is designed to explore the destinations in the southern part of Bali island with a combination between authentic culture and amazing ocean views. Uluwatu temple is a famous temple with spectacular sunset views. The area around the temple is inhabited by a band of mischievous monkeys, who snatch unguarded items, so you need to be careful with your belongings such as hat, sunglasses, or anything else that can be taken away. While watching the sunset view, at 6 pm there is a kecak dance and fire dance performance which performed by 100 male dancers.
Kuta/Saminyak Day Trip
At the end of our stay, you will have an opportunity to visit and partake in activities at one of the local orphanages where you will meet some amazing children. You will play games, read stories and engage in arts and crafts before having the chance to provide resources in aiding such an incredible cause. (optional)
Training Sessions
Suitable for all levels of fitness, our training sessions are designed for both wellness and overall health with a sprinkle of fun! With training and activities optional, you will still have plenty of time to rest and relax with a book or cocktail by the pool or beach.
Our Training sessions will include; Yoga, Functional Training, Unintentional Cardio, Boxing.
Want to know more? We'd love to hear from you!